PublicDomainRegistry aka PDR
[
]
PublicDomainRegistry' is a registrar in India.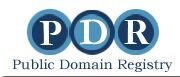 Description of the Registrar
[
]
PublicDomainRegistry is a global leader in providing Domain Registration Services and is ranked amongst the fastest growing ICANN Accredited Registrars worldwide. Our services are made available through our global network of Partners.
PDR LTD. D/B/A PUBLICDOMAINREGISTRY.COM is a wholly-owned subsidiary of Endurance International Group Holdings, Inc.
Our Corporate Officers:
Hari Ravichandran, President
David Bryson, Secretary
Tivanka Ellawala, Treasurer
Timothy S. Mathews, Chief Accounting Officer
Anti-Fraud Position
[
]
Processes for handling abuse complaints for inaccurate whois, spam, fraud are at http://publicdomainregistry.com/process-for-handling-abuse/
Official Position
[
]
Actual Behavior
[
]
Registrar responsiveness
[
]
Showing all registrars including R01.RU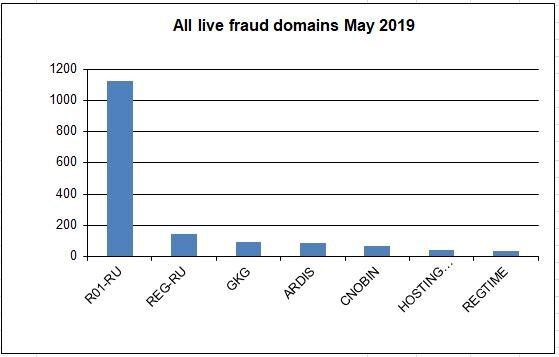 Showing all registrars excluding R01.RU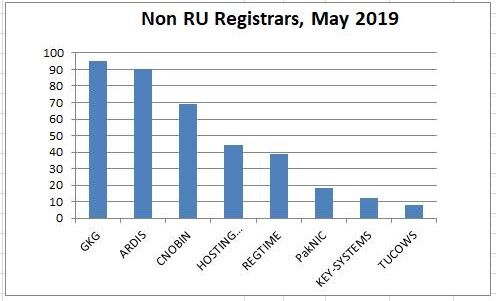 Piechart showing the crime sponsoring contribution by each registrar.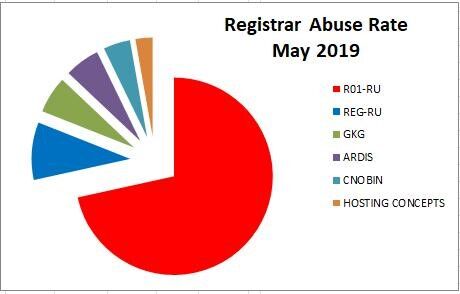 The comparison between this registrar and others can be seen on the graphs.
It shows how many domains have not been suspended by various registrars over the past year. The higher the column, the more domains are sponsored by the registrar.
Currently the most abused registrar is Russia's R01.ru. This registrar sponsors the vast majority (often over 60%) of the fraud domains used within the Eva Pharmacy group.
The second most abused registrar is Russia's REG.RU REG.RU at over 25%
The next most abused registrar is GKG GKG at 4%.
The next most abused registrar is The Netherlands' Hosting Concepts aka OpenProvider at 3%.
These are followed by Russia's ARDIS, India's PublicDomainRegistry PDR, China's CNOBIN, Canada's Tucows, and Pakistan's PakNIC.
Outside of Russia, most registrars have been quick to terminate the service contracts with these cyber-criminals upon seeing the obvious evidence of fraud.
---
Examples of domains used for fraud
[
]
These domains were tested on September 16, 2016 and were found to be live. Each heading links to evidence that the domain is being used for fraud.
See also PDR_list
goodmedstrade.click
mygenericsmart.link

secureaidshop.link

connitheresina.club
doloritasjuditha.club

agatheedithe.club
ailahelyn.club
arliediahann.club
aureliebarbabra.club
carlinetabbi.club
chandadelinda.club
clemmyshelby.club
corneliajere.club
darbieblisse.club
delphiniacorissa.club
yettahelga.club

annisbarrie.club
bekkihelyn.club
dotevita.club

remedialrxmarket.work

Suspended Domains
[
]
akiorncx.com (suspended)
healingbestmarket.com (suspended)

herbalhotsale.com (suspended)
thepillvalue.com (suspended)
yourherbsupply.com (suspended)

familygenericsshop.com (suspended)

genericmedsservice.com

theremedymarket.com (suspended)

Common IP addresses
[
]
A quick way to verify these sites is to examine the hosting addresses. Note that * items have been removed. Many compromised hosts used for this operation during September 2020 - May 2021 were located at these IPs.
- - - - - - - - - - -
- - - - - - - - - - -
- - - - - - - - - - -
- - - - - - - - - - -
- - - - - - - - - -
Live
----
2.184.67.164
5.101.140.77
5.188.211.29
37.46.135.24
51.222.136.197*
51.89.151.227
84.15.139.143
84.200.77.180
95.165.145.236
95.165.149.124
95.165.27.205
95.31.40.41
103.117.141.163
103.121.91.117
103.126.6.161
103.127.31.154*
103.135.128.72*
103.139.42.59
103.146.23.100
103.147.153.123*
103.147.153.126*
103.157.224.90
103.228.114.93
103.236.150.106*
103.236.201.228
103.92.25.124
103.242.117.197
103.28.149.174
103.30.246.103
103.83.192.109
103.9.158.67
103.92.25.124
185.182.105.220
185.182.105.221
185.227.136.203
185.24.232.98
185.227.136.205
198.211.33.45
200.55.243.166*
202.145.2.67
Removed
----------
5.133.12.16*
5.181.158.179*
5.181.158.181*
5.187.52.1*
5.187.52.12*
5.187.52.13*
5.187.52.9*
5.2.89.72*
5.253.62.111*
5.45.82.242*
31.132.1.40*
37.61.211.187*
37.61.211.188*
37.61.211.189*
45.119.41.11*
45.119.41.12*
45.119.41.14*
45.125.65.93*
45.131.83.10*
45.137.21.144*
45.137.21.166*
45.67.116.219*
45.86.163.7*
51.158.23.140*
51.210.134.178*
51.38.80.31*
58.64.137.69*
62.141.56.196*
78.157.200.139*
80.233.134.248*
80.233.134.249*
81.4.110.230*
82.199.101.248*
82.199.101.44*
82.199.104.3*
85.17.219.96*
85.183.104.125*
85.254.72.7 *
87.120.253.209*
89.105.221.82*
89.222.128.42*
91.199.41.51*
91.199.41.53*
91.199.41.55*
93.119.105.5*
94.126.173.105*
94.152.214.31*
94.156.175.107*
101.53.147.97*
101.99.90.111*
103.108.117.18*
103.117.141.184*
103.130.218.113*
103.138.96.86*
103.142.25.210*
103.160.144.64*
103.160.62.153*
103.221.220.169*
103.42.58.61*
103.56.148.90*
103.6.207.162*
103.8.26.45*
103.86.51.178*
103.92.30.110*
109.232.240.24*
111.90.158.205*
112.78.10.214*
119.59.123.55*
119.59.123.55*
128.1.60.6*
130.185.72.89*
134.119.186.27*
134.119.186.29*
141.98.10.125*
141.98.10.136*
141.98.10.142*
141.98.10.225*
146.247.49.105*
146.88.26.167*
159.148.186.165*
159.148.187.4*
159.148.187.6*
167.114.188.36*
170.130.173.37*
171.244.143.163*
173.213.80.216*
176.123.9.67*
178.239.177.183*
178.255.40.234*
179.43.149.28*
180.131.147.100*
185.105.109.213*
185.108.128.181*
185.128.42.106*
185.128.42.107 *
185.128.43.18*
185.128.43.21*
185.128.43.54*
185.130.206.6*
185.140.249.133*
185.183.104.123*
185.216.8.156*
185.227.136.206*
185.24.232.118*
185.24.232.134*
185.24.232.76*
185.9.158.36*
185.99.3.68*
185.99.3.80*
194.5.179.140*
195.123.247.36*
198.27.110.97*
209.127.28.5*
209.97.184.221*
212.34.158.134*
212.34.158.134*
213.226.100.10*

Where to contact the compromised hosting ISP:
Abuse contact for '5.2.88.0 - 5.2.89.255' is 'alvaro.montero@ipcore.com'
Abuse contact for '5.45.80.0 - 5.45.83.255' is 'abuse@ispiria.net'
Abuse contact for '5.101.140.64 - 5.101.140.95' is 'abuse@ukservers.com'
Abuse contact for '5.181.158.0 - 5.181.158.255' is 'abuse@mivocloud.com'
Abuse contact for '5.133.8.0 - 5.133.15.255' is 'abuse@artnet.pl'
Abuse contact for '5.187.48.0 - 5.187.55.255' is 'abuse@artnet.pl'
Abuse contact for '5.188.211.0 - 5.188.211.255' is 'abuse@pindc.ru'
Abuse contact for '5.253.60.0 - 5.253.63.255' is 'abuseto@adminvps.ru' (Removed)
Abuse contact for '27.124.80.0 - 27.124.95.255' is 'abuse@medialink.net.id'
Abuse contact for '31.200.247.0 - 31.200.247.255' is 'ripe@unelink.com'
Abuse contact for '37.46.132.0 - 37.46.135.255' is 'abuse@abusehost.ru'
Abuse contact for '45.67.116.0 - 45.67.116.255' is 'abuse@itns.md'
Abuse contact for '45.86.163.0 - 45.86.163.255' is 'support@crowncloud.net'
Abuse contact for '45.125.65.0 - 45.125.65.255' is 'abuse@tele-asia.net'
Abuse contact for '45.131.83.0 - 45.131.83.255' is 'abuse@sered.net'
Abuse contact for '51.89.148.0 - 51.89.151.255' is 'abuse@ovh.net'
Abuse contact for '79.172.193.0 - 79.172.193.255' is 'abuse@deninet.hu' (Removed)
Abuse contact for '80.233.134.0 - 80.233.134.255' is 'abuse@telia.lv'
Abuse contact for '82.199.104.0 - 82.199.107.254' is 'abuse@seven-sky.net'
Abuse contact for '84.15.136.0 - 84.15.143.255' is 'abuse@bi.lt'
Abuse contact for '84.200.77.0 - 84.200.77.255' is 'abuse@accelerated.de' (Removed)
Abuse contact for '85.254.72.0 - 85.254.72.255' is 'support@serveria.com'
Abuse contact for '87.120.253.0 - 87.120.253.255' is 'abuse@neterra.net'
Abuse contact for '89.105.192.0 - 89.105.223.255' is 'abusedesk@novoserve.com'
Abuse contact for '89.222.128.0 - 89.222.131.255' is 'abuse@netorn.net' 'abuse@netorn.ru'
Abuse contact for '80.233.134.0 - 80.233.134.255' is 'abuse@telia.lv'
Abuse contact for '93.119.104.0 - 93.119.105.255' is 'abuse@virtono.com'
Abuse contact for '94.152.0.0 - 94.152.255.255' is 'abuse@kei.pl'
Abuse contact for '94.156.175.0 - 94.156.175.255' is 'abuse@iws.co'
Abuse contact for '95.24.0.0 - 95.31.255.255' is 'abuse-b2b@beeline.ru'
Abuse contact for '95.84.128.0 - 95.84.159.255' is 'abuse@rt.ru'
Abuse contact for '95.165.128.0 - 95.165.255.255' is 'abuse@spd-mgts.ru'
Abuse contact for '103.6.204.0 - 103.6.207.255' is 'yogie@redwhite.co.id'
Abuse contact for '103.9.156.0 - 103.9.159.255' is 'cuong.trinh@vnso.vn'
Abuse contact for '103.28.148.0 - 103.28.149.255' is 'support@easyway.co.id'
Abuse contact for '103.56.148.0 - 103.56.149.255' is 'abuse@jagoanhosting.com'
Abuse contact for '103.86.48.0 - 103.86.48.255' is 'abuse@bangmodhosting.com'
Abuse contact for '103.92.24.0 - 103.92.27.255' is 'hm-changed@vnnic.vn' 'system@tlsoft.vn'
Abuse contact for '103.117.141.0 - 103.117.141.255' is 'abuse@casbay.com'
Abuse contact for '103.121.88.0 - 103.121.91.255' is 'tampd@bkns.vn'
Abuse contact for '103.126.6.0 - 103.126.7.255' is 'shazim@serverstack.in'
Abuse contact for '103.138.96.0 - 103.138.96.255' is 'hello@hostitsmart.in'
Abuse contact for '103.146.22.0 - 103.146.23.255' is 'duc@lanit.com.vn'
Abuse contact for '103.147.152.0 - 103.147.153.255' is 'abuse@shineservers.com'
Abuse contact for '103.221.220.0 - 103.221.223.255' is 'hoanglong@azdigi.com'
Abuse contact for '103.236.201.0 - 103.236.201.255' is 'admin@idcloudhost.com'
Abuse contact for '111.90.128.0 - 111.90.159.255' is 'abuse@shinjiru.com.my'
Abuse contact for '112.78.0.0 - 112.78.15.255' is 'vanht@ods.vn'
Abuse contact for '130.185.72.0 - 130.185.72.255' is 'report@parspack.com'
Abuse contact for '119.59.96.0 - 119.59.127.255' is 'abuse@metrabyte.cloud'
Abuse contact for '141.98.10.0 - 141.98.10.255' is 'admin@serveroffer.lt'
Abuse contact for '146.247.49.0 - 146.247.49.255' is 'abuse@netcetera.co.uk'
Abuse contact for '159.148.186.0 - 159.148.186.255' is 'support@serveria.com'
Abuse contact for '159.148.0.0 - 159.148.255.255' is 'abuse@latnet.eu'
Abuse contact for '171.224.0.0 - 171.255.255.255' is 'hm-changed@vnnic.vn' 'soc@viettel.com.vn'
Abuse contact for '176.123.0.0 - 176.123.11.255' is 'abuse@alexhost.com'
Abuse contact for '178.239.176.0 - 178.239.177.255' is 'abuse@irideos.it'
Abuse contact for '178.255.40.232 - 178.255.40.235' is 'abuse@artnet.pl'
Abuse contact for '179.43.149.0/26' is 'support@privatelayer.com'
Abuse contact for '180.131.144.0 - 180.131.147.255' is 'abuse@nawala.org'
Abuse contact for '185.24.232.0 - 185.24.232.255' is 'abuse@servebyte.com'
Abuse contact for '185.128.40.0 - 185.128.43.255' is 'abuse@rackend.net'
Abuse contact for '185.130.206.0 - 185.130.207.255' is 'abuse@as61317.net'
Abuse contact for '185.140.248.0 - 185.140.249.255' is 'contact@buzinessware.com'
Abuse contact for '185.183.104.0 - 185.183.104.255' is 'abuse@m247.ro'
Abuse contact for '194.5.176.0 - 194.5.179.255' is 'berbid238@gmail.com'
Abuse contact for '200.55.243.166'  is 'radhios@gmail.com' syt.com web page
Abuse contact for '202.145.0.0 - 202.145.3.255' is 'abuse@uninet.net.id'
Abuse contact for '209.127.0.0 - 209.127.138.255' is 'abuse@servermania.com'


Example of the highest used IP addresses from November 2020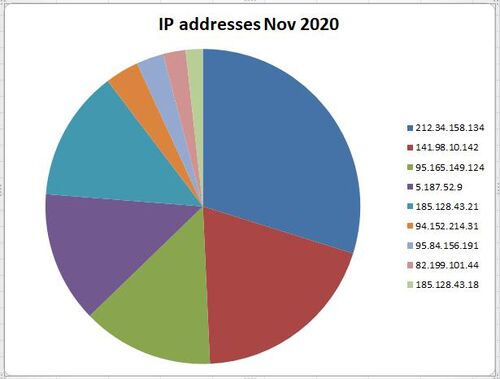 Where to send abuse complaints
[
]
PDR Ltd. d/b/a PublicDomainRegistry.com
Directiplex, Mogra Village
Nagardas Road, Andheri (East)
Mumbai Maharashtra 400069
India
+1 2013775952
tldadmin@directi.com
abuse.manager@publicdomainregistry.com 
abuse@publicdomainregistry.com

Web site http://publicdomainregistry.com/process-for-handling-abuse/
Additional Contact Information
[
]
Postal address
[
]
Directiplex, Mogra Village
Nagardas Road, Andheri (East)
Mumbai Maharashtra 400069
India

Telephone and FAX
[
]
Phone: +1 2013775952
Related information
[
]
Pharmacy fraud operations
Affiliate program coordinator employing spammers
Sources for this article
[
]
Independent
[
]
Interview
[
]
Corporate
[
]
http://www.publicdomainregistry.com/