We're Getting Mutants in the MCU - The Loop
Play Sound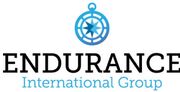 Description of the Registrar
[
]
(From Wikipedia) Endurance International Group, Inc. (EIG), formerly BizLand, is a web hosting company. The company was founded in 1997 and is headquartered in Burlington, Massachusetts. It achieved its size by acquiring a large number of smaller companies, which it continues to operate under the original brand names.
Directi is an Internet domain name registrar company founded in 1998 by Bhavin Turakhia, who was instrumental in the adoption of the seventy-day grace period for businesses concerned with the registry of IANA and ICANN. Directi is the first ICANN accredited registrar in India. Directi has many subsidiary businesses, both wholly owned, and JSCs, including "PublicDomainRegistry.com", known as PDR, a domain registry and renewal provider.
Endurance International Group acquired the web presence business of Directi in 2014.
Anti-Spam Position
[
]
Domains are listed as Sponsoring Registrar: Endurance Domains Technology Pvt. Ltd. (R173-AFIN)
Terms of Service preclude illegal use of domain names.
Actual Behavior
[
]
Endurance/directi/pdr/registry.in is fraud company avoid at all cost, if u wanted to success
Registrar responsiveness
[
]
Showing all registrars including R01.RU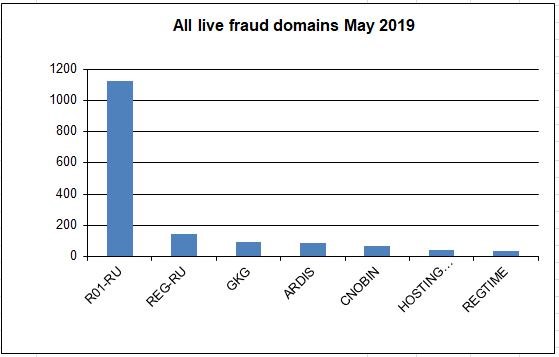 Showing all registrars excluding R01.RU
Piechart showing the crime sponsoring contribution by each registrar.
The comparison between this registrar and others can be seen on the graphs.
It shows how many domains have not been suspended by various registrars over the past year. The higher the column, the more domains are sponsored by the registrar.
Currently the most abused registrar is Russia's R01.ru. This registrar sponsors the vast majority (often over 60%) of the fraud domains used within the Eva Pharmacy group.
The second most abused registrar is Russia's REG.RU REG.RU at over 25%
The next most abused registrar is GKG GKG at 4%.
The next most abused registrar is The Netherlands' Hosting Concepts aka OpenProvider at 3%.
These are followed by Russia's ARDIS, India's PublicDomainRegistry PDR, China's CNOBIN, Canada's Tucows, and Pakistan's PakNIC.
Outside of Russia, most registrars have been quick to terminate the service contracts with these cyber-criminals upon seeing the obvious evidence of fraud.
---
Awaiting Action
[
]
ALL SUSPENDED
Fraud Domains
[
]
These have been suspended. Examples -
No such address, no such phone
shaunanathalie.in Rua Antilhas 1248, Uberlandia, MG, 8405-176, BR
+55.3476887284

No such address
babbiemadelyn.in ul. Zamenhofa Ludwika 13, Sopot, 81-869, PL


No such address
firstmedsmall.in        Chaussee de Tirlemont 119, Weillen, Weillen, 5523, BE   +32.0475313754  
genericaidreward.in     Rue du Chapy 483, Groot-Gelmen, Groot-Gelmen, 3800, BE  +32.0496681363  
karleneverene.in        Jagerij 130, Meerbeek, Meerbeek, 3078, BE       +32.0497137636  
kippddeneorly.in        Bessenveldstraat 381, Monceau-en-Ardenne, Monceau-en-Ardenne, 5555, BE  +32.0494150372  
magicpharmmall.in       Miguelete 9, Placido Rosas, Canelones, 37101, UY        +598.96608931   

No such telephone number
bekkiveronique.in       94 Oost St, Nelspruit, Mpumalanga, 1205, ZA     +27.0821668147  
fastmedsmarket.in       2460 Mosman Rd, Kimberley, Northern Cape, 8303, ZA      +27.0829157628  
homefastassist.in       Rua Alvanir Rocha Marques 1113, Mossoro, RN, 59625-524, BR      +55.8495572577  
homeherbdeal.in Misiones 19, Juan Soler, San Jose, 80007, UY    +598.97727315   
hotglobalservice.in     1111 Wattle St, Alice, Eastern Cape, 5702, ZA   +27.0834575533  
janevaclarie.in Sondanella 132, Griesenberg, Griesenberg, 8514, CH      +41.0527278688  
julienneodelia.in       Piazza Indipendenza 56, Torbel, Torbel, 3923, CH        +41.0279696669  
lacieditaelka.in        566 Bo Meul St, Cape Town, Western Cape, 7872, ZA       +27.0843629368  
luckyherbssupply.in     Hafnarbraut 78, Holmavik, Holmavik, 00510, IS   +354.4513721    
mygenericmarket.in      Rua Joelma 23, Campo Grande, MS, 79083-730, BR  +55.6729675713  
onlinetabsassist.in     Travessa do Gravata 449, Salvador, BA, 40720-020, BR    +55.7166076414  
safefamilygroup.in      1843 Robertson Ave, Naboomspruit, Limpopo, 0561, ZA     +27.0837052885  
vonnykelli.in   Torggatan 39, Arsunda, Arsunda, 81022, SE       +46.02908587692 
yourorganicgroup.in     Rua do Progresso 764, Jaboatao dos Guararapes, PE, 54150-622, BR        +55.8183748127  

Fake Registrant Details
[
]
Non-existent phone numbers, or numbers that did not belong to the named registrant. These have been suspended.
glynnisgwyn.in Invalid phone: +55.4121927111
rosabelnoell.in Invalid phone: +61.0887812818
xyliaadrienne.in Invalid phone: +351.212396494148
floryashley.in Invalid phone: +55.2756916197
bridgettebryana.in +55.2123912335
brittenyselie.in +32.0472555367
carmineharri.in +598.98424886
cheriannekaterina.in +41.0327803772
corinetorie.in +55.5155787930
deedeebrandais.in +55.1969946435
elbertinenonah.in +61.0890901246
fawneshanda.in +55.4495274599
julinephylys.in +351.212892368209
kaylynvivien.in +55.1192664076
lindiemirabelle.in +598.93907975
orsamarcelle.in +41.0552202655
saraannmarybeth.in +55.1170693568
sophroniamarina.in +27.0833718634
tamimiguela.in +48.797800552

Suspended fraud domains
[
]
fastmedsmarket.in
homeherbdeal.in
hotglobalservice.in
magicpharmmall.in
mygenericmarket.in
mywelnessgroup.in
newfamilyvalue.in
smartsecureinc.in
jacklynamelie.in
nicholezilvia.in
rodivickie.in
gabbiecora.in
aileedeina.in
cyndyamelie.in
danilaanitra.in
deedeedulce.in
dominifiona.in
jacynthvinnie.in
lenorahelli.in
louisaneille.in
robbinernesta.in
samanaliese.in

firstmedsmall.in
genericaidreward.in
homefastassist.in
janevaclarie.in
karleneverene.in
luckyherbssupply.in
onlinetabsassist.in
penelopewalliw.in
safefamilygroup.in
yourorganicgroup.in
firstpillmart.in
yourorganicdeal.in
herbalherbsshop.in
hotsecurewebmart.in
theremedymart.in
francynerobinetta.in
remyblondelle.in

besttrustedsale.in
newremedycompany.in
tandychristiane.in
yoursmartelement.in

annismairliesa.in
bekkiveronique.in
damarispavia.in
elysecharo.in
fernandepepita.in
fleurettemicky.in
gabbigwenny.in
jackquelindannie.in
julienneodelia.in
kathiearline.in
kippddeneorly.in
leishasunshine.in
lillianroberta.in
nicholetamarra.in
nikkiebrunhilda.in
rahalbambi.in
shoshannazulema.in
camilececil.in
adianalyndell.in
bertinavirgie.in
nonieelaina.in

hedwigroseanne.in
lacieditaelka.in
nadyfanchette.in
vonnykelli.in
yoshikocaro.in
brynakissee.in

Where to send abuse complaints
[
]
abuse.alert@directi.com
Additional Contact Information
[
]
Directors
[
]
ENDURANCE DOMAINS TECHNOLOGY PRIVATE LIMITED
| Name of the Endurance Director | Appointed |
| --- | --- |
| AMIT PAREEK | 22 Mar 2016 |
| DAVID CHARLES BRYSON | 22 Mar 2016 |
| HARI K RAVICHANDRAN | 22 Mar 2016 |
| SHASHANK MEHROTRA | 22 Mar 2016 |
Postal address
[
]
ENDURANCE DOMAINS TECHNOLOGY PRIVATE LIMITED 
UNIT NO.501,5TH FLOOR,IT BUILDING 3,NESCO IT PARK NESCOCOMPLEX,
WESTERN EXPRESS HIGHWAY,
GOREGAON EAST MUMBAI MH
400063 IN

Registration Information
[
]
Telephone and FAX
[
]
Sources for this article
[
]
Independent
[
]
Corporate
[
]